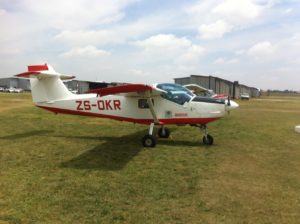 There is nothing more delightful than an unexpected encounter with an aircraft you have never seen before, and better still, you have trouble pronouncing! At first, this aircraft looks like an ordinary little trainer, but it has so much going for it, I can't help but wonder why the general aviation community seems so stuck on traditional, over-priced American brands?
The owner of this particular example certainly knew what he was going after, and as there is apparently only one in South Africa, it was certainly a lucky acquisition. Firstly, the name – 'Mushshak' is of Persian origin, and translated from Urdu, means 'expert' or 'proficient'. Now that I understand the name, I like it a lot because it is an ambitious little aerie, that has plenty to offer, with the trainee pilot and instructor in mind. Built under licence from Swedish company SAAB in Pakistan, the design is Nordic, but the admirable build quality can be fully attested to the determined Pakistanis..
This aircraft is made for training. A robust little fox, with an almost all metal construction, inclusive of sturdy undercarriage and oleo in the nose wheel, ensures that she can take the punches. The cockpit is side-by-side, ideal for demonstrative training, but wide enough that you are not rubbing elbows with your fellow front-seated companion. Remarkably, the seat in the rear is large enough for a passenger or enough baggage for a week long camping trip. While a low wing aircraft can obscure view to the ground, the Mushshak wing design is really cool, in the sense that it is a 'high-wing', but part of the canopy extends above the wing, giving you the best of both, and an exceptional view.
In terms of performance specs, it is perfectly kitted out for the purpose. with a super strong Lycoming IO-360 engine, capable of putting out 200hp / 2700rpm (sea level), which is more than adequate for most conditions. She is not super fast, with a cruise speed of 113kts, but has a stall speed of 54kts which makes her very manageable for any newbie student. Admittedly, the best part of this aircraft has got to be the brilliant instruments – top quality SAAB instruments which any pilot would simply kill for!
With only one known flying in South Africa, we can't help be jealous of the lucky score the the owner got with this one.