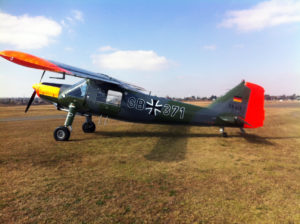 I do love a good warbird. I am immediately attracted to military colours, allied and enemy insignia, simply because they represent a brave and romantic era. The Dornier DO-27 was not a product of World War Two, but rather a symbol of the re-emergence of German military aeronautics.
Slapped with a ten year ban from 1945 to 1955, German aircraft manufacturers were forbidden from producing any military aircraft during this time. What makes this story so interesting is that 'Herr Dornier' patiently waited out these ten years to be able to put this aircraft out into the market. Unlike alot of war aircraft, which were often built in a hurry to meet the demand, the workmanship on the Dornier DO-27 indicates that time certainly equals quality. One only needs to climb into the cockpit to see the attention to detail – the more you look, the more you find…
This beauty has attraction of magnetic proportions – you just want to run over for a closer look. Let's face it, military tail-draggers, in particular, are just plain sexy! This one is clearly loved by her owner and it shows. Despite having had a crumpling crash in her history, she is in immaculate condition, still with all the original instruments, labelled in Deutsch.
The Do-27 design is very much pilot-centred, with uber smooth stick control, huge flap lever and a massive wooden trim wheel – masterful for it's time. It also has nifty foot holders on the rudder pedals which ensures absolute control, useful for quick rudder movements on landing. Although its primary intention was for reconnaissance, it has a lever in the rear which opens a set of bomb doors – useful, should you ever need to transport a Mother-in-law! The rear passenger door is also conducive for skydiver drops. In terms of carrying capacity, it has a MTOW of 1850kg (empty weight 1073kg) and can take 4-6 passengers. My immediate thoughts on seeing the amount of space in the rear, is that one could actually sleep very comfortably here, something the owner has actually done and can attest to.
In terms of performance, she is super strong, and has excellent STOL capabilities, making it the ideal bush plane. However, if speed is your thing, then this one is not for you – with a maximum speed of around 125kts, and the cruise at 114kts, you will have plenty of time to take photos en-route to Cape Town. What is impressive, is its performance at slow speeds. You can literally hover at the 40kt stall speed in a strong headwind, a very cool trick to try if you have the skills! An interesting comparison is that it has the same Lycoming engine as the Aero Commander, so alot of power for the aircraft size. The only down side is the oil consumption. So far, apart from the Antonov 2, I think it is one of the bigger oil guzzlers, necessitating oil checks every five hours – costly, but not really a problem, considering the average bladder carrying capacity is less than that.
By comparison, the Dornier Do-27 reminds me a lot of the Aermacchi Bosbok used by the SAAF, except the Dornier has a more attractive, sturdy set of legs. In anticipation of experiencing her in flight, I can only dream…
If you have ever flown the Dornier, please tell us about it in the comments below!