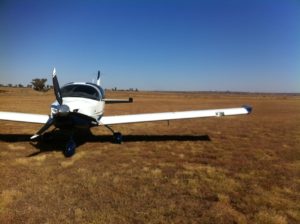 Why we like it: Every young pilot who has trained in the Johannesburg area, will have, at some stage, performed at least a touch and go here, and therefore it has sentimental value. If you are in search of a morning of peace and quiet then this is the good option. The field is unobstructed and pretty easy to spot from the air. The runway is long and in good condition which makes it a good option for a variety of aircraft.
There is a restaurant onsite, offering basic meals at a reasonable price, but even if they are relatively quiet, service can be slow, so just a point to consider if you are an impatient Joburger. I have not tried the breakfast buffet, which is probably a good option, as you can help yourself immediately. Personally, I am attracted by the lovely old fashioned sweetie jars on the inside counter. Seating offers a good view of the runway, and is all covered – a good thing in the hot Free State summer, but as winter approaches it can get a little chilly, so take a jacket.
What is there to see? Parys has a very active sky-diving club which provides good viewing entertainment at the field, with crazy people leaping out of an aeroplane and floating down with a parachute (I might have to try it one day!) Alternately, a good option is hitching a ride to the quaint town of Parys and visiting its selection of antique shops and coffee shops. If you are more into exploring from the air, do not miss out on a flight over the Vaal Dam – Gauteng's largest dam, and pretty awesome especially in summer when everything is green.
GPS Co-ordinates: 26 53 08 S 27 30 20 E
What is your favourite airfield?
Tell us why it is a cool place to fly to, and what makes it a great hangout…